Malaysian Trade Union Congress(MTUC) held a press conference led by Bro. Mohd Khalid Atan President MTUC this morning at 11am at the MTUC headquarters on the following:


ISSUES:
MTUC to raise issues concerning the rights and legal protection available to foreign workers while working in Malaysia and the government's

seriousness in managing employment related problems to the Minister of Human

Resources and other government agencies.
Currently MTUC received complaints from more than 30 workers formerly working for an out sourcing company and not paid since December 2012. MTUC want

the Ministry of Human Resources to intervene in this matter and take serious

action against any person or company that's responsible for such inhumane treatment and labour exploitation. Currently the workers are having serious problem, even to have decent meal without being paid for more than two months.

Other issues

concerning problems daily faced by foreign workers in Malaysia

· Problems related to the implementation of Minimum Wage since January 2013;
· Issues on non-compliance of the employment Act 1955;
· Work related

injuries higher among foreign workers and not captured by DOSH;
· Premature

termination of employment and weaknesses in the Law;
· Compulsory decent accommodation for them not covered by any law;
· Enforcement by Labour inspectors very weak / not effective;
· Access to

justice by foreign workers is very rare due to intimidation and threat by supervisors at work place is very common in Malaysia according to foreign

workers seeking legal remedy is difficult because its expensive and

restrictions in the Law.
· Employers can terminate foreign workers contract at any point and send them back by just cancelling their work permit and the case is closed there.

Our country image

globally will be affected if the government is not serious in handling the situation now by coming up with a comprehensive policy or Law to protect

foreign workers by providing them with equal rights with that of local workers.
T

hanks and regards.

Parimala N., Project Officer
MTUC Mobilising Action for the Protection
of Migrant Domestic Workers Project
Malaysiakini covered this press conference, and the repo

rt in Bahasa Malaysia is as follows:-
Hak Pekerja asing dilemma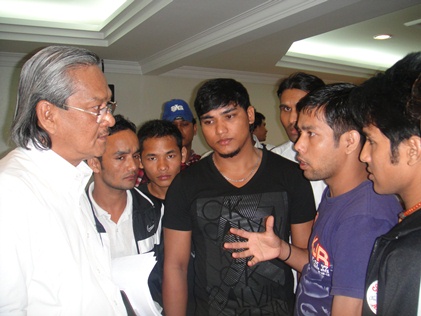 Mohd Khalid Atan, Presiden MTUC bersama-sama Pekerja-pekerja Nepali
Seramai 33 pekerja Nepal telah ditamatkan kerja tanpa sebarang pampasan oleh syarikat elektronik yang berlokasi di Shah Alam. Pekerja-pekerja ini juga tidak dibayar gaji sejak Disember 2012. Dalam pada meminta bantuan MTUC, kesemua pekerja-pekerja ini telah berhimpun di MTUC Subang Jaya dalam persidangan media yang diadakan bagi meluahkan permasalahan mereka dan seterusnya menuntut keadilan kepada mereka.
Presiden MTUC, Mohd Khalid Atan dalam kenyataan menyatakan kekesalan terhadap apa yang telah berlaku dan menuntut supaya keadilan yang saksama diberikan kepada pekerja-pekerja. Kata beliau semua pekerja tidak kira pekerja asing mahupun tempatan mempunyai hak yang sama iaitu "Universal right", malah mereka mempunyai hak yang sama mengikut undang-undang serta perjanjian bersama(collective agreement). Mereka tidak boleh diperlakukan seperti ini, katanya.
Majikan pekerja-pekerja ini Ontime Performance Sdn Bhd yang berlokasi di Wangsa Setia Kuala Lumpur (sebuah syarikat outsourcing)telah menyumber keluar pekerja-pekerja Nepali kepada syarikat Vista Point Technologies Sdn Bhd (Flextronics) di Shah Alam telah meberi notis pemberhentian kepada pekerja-pekerja ini pada 27 December 2012 kata Moses Singam,Penyelia Projek Pekerja Asing MTUC.
Pekerja-pekerja ini dengan bantuan MTUC telah mengfailkan kes di perhubungan Perusahaan Shah Alam pada 18hb Februari 2013 atas pertikaian tidak dibayar gaji dan dihentikan kerja tanpa alasan yang munasabah malah telah membuat laporan polis pada 1hb Februari 2013. Kini pekerja-pekerja ini telah dihalau dari hostel.
Tanya Khalid Atan, ke mana mereka hendak pergi dan makan apa, sekiranya gaji tidak dibayar? malah katanya kini majikan mengarah pekerja-pekerja ini pulang ke negara asal dengan kosnya dibiayai oleh pekerja-pekerja itu sendiri, adakah ini mustahil, tambah beliau.
Pekerja-pekerja ini hanya dibayar RM546 sebulan dan kini gaji tersebut telah ditahan sejak 2 bulan. Khalid berpendirian bahawa gaji minima harus diberikan kepada pekerja asing tanpa melakukan sebarang potongan elaun katanya.
Mengikut Moses Singam, majikan harus memberi slip gaji mereka dan menyatakan dengan jelas jenis pemotongan yang dilakukan, kerana pekerja-pekerja ini tidak mengetahui langsung kenapa majikan melakukan pelbagai pemotongan tanpa dimaklumkan dan MTUC menghadapi kesukaran menuntut keadilan kerana tiada bukti yang sah untuk ditunjukkan pada pihak tertentu apabila ingin menuntut keadilan dari majikan yang tidak bertanggungjawab ini, katanya.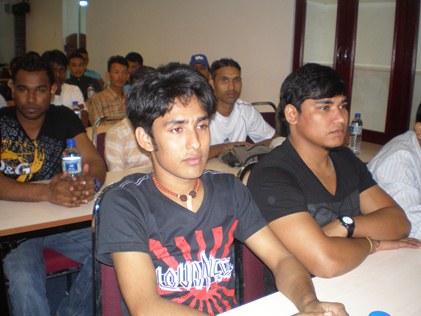 Sehabis persidangan media pekerja-pekerja Nepali ini enggan pulang ke tempat kediaman kerana tiada wang untuk memberi makanan, tiada kerja dan telah dihalau dari tempat kediaman, kata Thevendran, 25 tahun.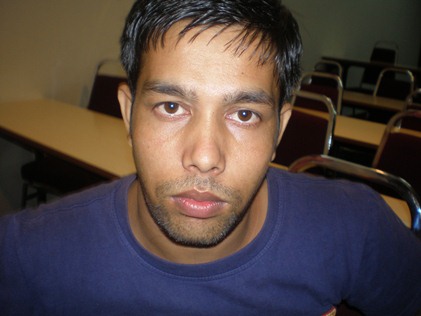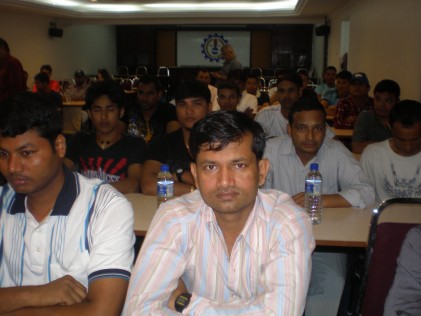 -
Malaysiakini, Citizen Journalist Malaysia(CJMY), 19/2/2013, Hak Pekerja asing dilemma